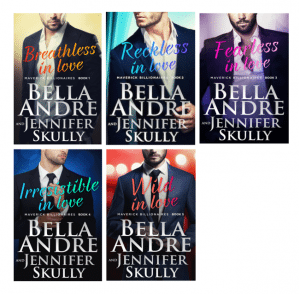 Many years ago, I had a dream about five super-sexy alpha heroes. (My dreams are great, aren't they?) As I woke up from my dream, their story became clearer and clearer to me: While all five men came from very difficult childhoods, they banded together and vowed to climb out of it—together. They called themselves the Mavericks—and as they each conquered their chosen fields, they became the Maverick Billionaires.
With a little encouragement from my good friend, Jennifer Skully, the Maverick Billionaires series was born. And because the Mavericks are all about the deep bonds of friendship, I asked Jennifer if she would write the series with me. It's been so much fun to work on these stories with someone I adore and have such respect for.
I absolutely love to watch each of the Mavericks fall head over heels in love with the one woman he never expected to have steal his heart. These are strong, wealthy men who are used to being in control in the boardroom, in the bedroom, and in life—but they each find their match in an equally gutsy woman and soon find that the unpredictability of love is what makes it so special.
Sure there are the private jets, the helicopters, and the crazy out of this world dates, but beneath all the glitz, the glamor, the power, the Maverick Billionaires are just men—amazing, incredible men—with a whole lot of love to give to the right woman.
And I love that about them.
There have been so many great billionaire books written in the past few years. What do you think the appeal of the billionaire hero is? Please leave a comment below!