If you haven't started reading about the Morrisons yet, this is the perfect opportunity to get started! Just visit any of the links below to grab your copy for 99 cents. That's $4 off!
Amazon Kindle ~ https://bellaandre.com/KMLT_Kindle

Apple iBooks ~ https://bellaandre.com/KMLT_iBooks

Barnes & Noble Nook ~ https://bellaandre.com/KMLT_Nook

Kobo ~ https://bellaandre.com/KMLT_Kobo

Google ~ https://bellaandre.com/KMLT_GooglePlay

Amazon Australia ~ https://bellaandre.com/KMLT_AmazonAU

Amazon Canada ~ https://bellaandre.com/KMLT_AmazonCA

Amazon UK ~ https://bellaandre.com/KMLT_AmazonUK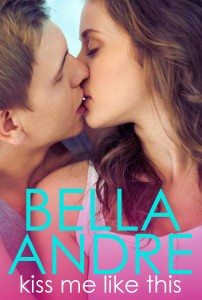 Sean Morrison, one of six siblings and the top college baseball player in the country, is reeling from a heartbreakingly painful loss. Nothing seems to matter anymore…until the night Serena Britten unexpectedly ends up in his arms.
Serena is a world-famous model who has only ever wanted to be normal, even though her mother has always pushed her to become a superstar. Though it isn't easy to try to leave everyone and everything she knows behind, Serena is determined to enroll in college. More than anything, she wants to turn her love for books into a new career that she actually loves. Only, she never expected to meet someone like Sean on campus—or to be instantly consumed by their incredible chemistry and connection.
But when the pressures of her high-profile modeling career only get bigger and more demanding, will it make living a normal life as a college student—and falling in love with the hottest guy on campus—impossible?
(Note: Serena was a supporting character in JUST TO BE WITH YOU, part of "The Sullivans" series, and Smith Sullivan from COME A LITTLE BIT CLOSER makes an appearance in this book! KISS ME LIKE THIS is a full-length, standalone New Adult contemporary romance novel of 400+ pages/100,000 words and is intended for readers 18+.)