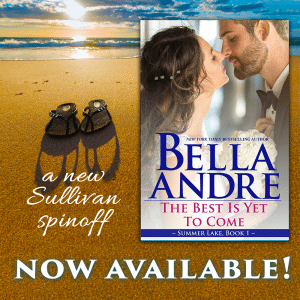 If you're a Sullivan fan, you met Calvin Vaughn at Summer Lake in Now That I've Found You (NY Sullivans 1) and Since I Fell For You (NY Sullivans 2). And now, I can't wait for you to read Calvin's emotional, sexy, and heartwarming second-chance love story with Sarah, the one who got away.
So much of this story was inspired by the summers I spend in New York's Adirondack Mountains in our hundred-year-old log cabin. All summer long, you can find me running across the beach to jump off the dock with my kids, or paddleboarding into the sparkles the setting sun spreads across the lake like glitter every clear summer night, or sitting around the campfire with family and friends making s'mores and wishing on falling stars.
I've been a California girl all my life, but as soon as I started dating the incredible man who would become my husband (I swear he's every Sullivan hero wrapped into one!), he told me that he needed to take me to the place that had always held his heart. A part of the country with crystal-clear lakes, mountains that stay green all year-round, and a perfect quiet that can be so hard to find anywhere else.
I hope you fall head over heels in love not only with Calvin and Sarah, but also with the beauty of Summer Lake.
<️3 Bella
And here are a few lovely early 5 star reviews…
"A runaway winner and a truly worthy addition to the Sullivan series! It is
5 am
and I just finished reading! I couldn't stop. Wow! THE BEST IS YET TO COME has exceeded all my expectations! I had tears in my eyes on and off while reading. I truly felt the love, the sense of community, and the strength of these characters." 5 stars from Karina
"Yowzah! Darn you Bella Andre, you made me cry! Bless you Bella Andre, you took me deep enough into a book for a HUGE emotional cry! A spectacular, emotional, thought provoking roller coaster ride of a story. Bella has done it yet again, penned a phenomenal story!" 5 stars from Lynn
"I cried, laughed & lost my heart in THE BEST IS YET TO COME!" 5 stars from Pam
"I was captivated by THE BEST IS YET TO COME!" 5 stars from Angie
"What a beautiful start to a new series in Summer Lake. Bella Andre is the queen of page turning romance! A beautiful emotional second chance romance in a small town." 5 stars from Rhonda
"Such a heartwarming story, I laughed and got teary eyed! I enjoyed every minute of being in Summer Lake!" 5 stars from Ashley
"Five sweet stars! I love the small town, reunion story of THE BEST IS YET TO COME, feeling as if I'm part of the world that Bella is building in Summer Lake–family, friendship, community, and love. It made me smile and tear up. There's a freshness and depth to Bella's writing." 5 stars from Maida
"Summer Lake sounds like such a wonderful place to live! Bella Andre has such a wonderful way with words. This is such a beautiful love story. I strongly encourage you to read the book." 5 stars from Becky